awsomesolution
Jewellery Cleaner And Multipurpose stain cleaner Combo
Regular price
Rs. 548.00
Sale price
Rs. 1,499.00
Unit price
per
CERTIFICATE OF TRUST
We are certified supplier on indiamart. TrustSeal is not just a logo. It is a certificate provided by IndiaMart to a genuine and trusted supplier, thereby, building credibility of the supplier among prospective buyers.
Multipurpose stain cleaner Quantity:-  250 m

l
About Product:   Our product works by dissolving the limescale and soap scum to reclaim the lost shine in seconds. This product is Not suitable for acid-sensitive surfaces like marble, enamel showers, aluminum, natural stones, zinc plated metals, hot or damaged surfaces, textiles, and carpets, etc.
Ingredients:-

Sodium Citrate, water softener, water, Sodium Acetate, Citric Acid, Essential Oil, Organic acid and polymer.
How to Use:
Shake well before use.
Spray on the surface of the object you want to clean.
Allow the solution to remain on the object for 30 – 40 seconds.
If stains are thick or heavy then leave the solution on the affected surface for 1.5 - 2 minutes.
After applying the solution rinse the article with normal /soap water and get it dry with a clean cloth.
No buffing or rubbing required.
Precautions:
Use only microfiber cloth to avoid scratches.
Keep out of children.
Avoid eye and prolonged skin contact.
Clean Your Jewelry At Home Without Any Metal Loss.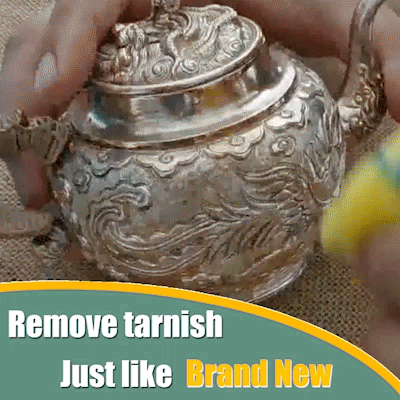 Easily make your pieces of jewelry shine like never before, get rid of the stain and built-up dirt, and make them stand out & look new with the Awsome Instant Shine Jewellery Cleaner.
Cleaner.It is formulated with an expert combination of hydrogen peroxide and suede fabric which safely cleans all kinds of jewelry materials such as diamond, silver, gold.
Awsome Instant Shine Jewellery Cleaner is ammonia-free which allows deep cleaning without causing damages in your jewelry in the long run. It also gives a shiny coating that can last up to a whopping 12 months!
FEATURES
Quick Shine Formula
It does not only offer instant cleaning; it also has a powerful quick-shine formula to make your jewelry sparkle.
Effective Cleaner
Awsome Instant Shine Jewellery Cleaner is an instant cleanser for your metal and stone collections. It effectively cleans gold, silver, diamonds, pearls, turquoise, and opals. It can remove the dirt from your all jewelry and accessories, including necklaces, earrings, bracelets, and more.


Non-abrasive
This liquid cleanser does not require deep rubbing, removing tarnish and dirt from your prized possessions both quickly and gently. Its cleaning formula does not contain ammonia and harsh chemicals that might affect your items' quality, so you can rest assured that your accessories will neither fade nor get discolored from the cleaning process.


Long-Lasting Shine
Prevent tarnishing from reforming that lasts for 12 months.

Non-Toxic Solution
100% non-toxic and biodegradable, safe to use.
Universal Use
It can be used on a variety of jewelry types including gold, palladium, diamond, e.t.c.
SPECIFICATION
NET: 100ml
Ingredients:-

Non ionic surfactants, organic acids, Aqua, Perfume, Preservative.
Chelating agent, Citric acid, amphoteric surfactant, essential oil,

Every material is biodegradable.
PACKAGE INCLUDES
Awsome Instant Shine Jewellery Cleaner
Instantly cleans the old and tarnished silver articles, gold, diamond & etc. giving them brand new look. This is very easy to use and can be used in multiple times by dipping method. Sparkling clean articles without any weight loss.
How to Use:
Apply the solution undiluted using a cotton/cloth and rub it on the silver article or dip the silver article in undiluted solution and leave it for few seconds.
Rinse the silver article with fresh/soap water and get it dry with a clean cloth. 
Precautions: 
Use it clear fully and keep out of reach of children.
For external use only.
Wash your hands after use.
---