Awsome Solution
Multipurpose Magical Gloves for Home Cleaning
Regular price
Rs. 249.00
Sale price
Rs. 1,699.00
Unit price
per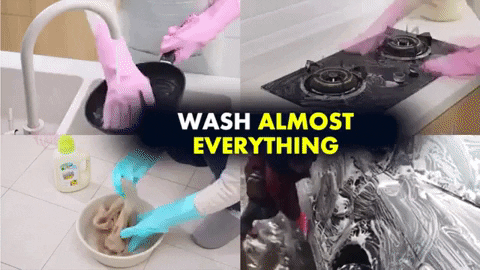 CLEANING DISHES HAS NEVER BEEN SO FASTER AND EASIER!
These multi-purpose gloves make dishwashing so much 
easy, fun, and quick
. These gloves are designed to give you amazing cleaning power thanks to their bristles that are built right into the gloves.

PROTECT YOUR HANDS FROM HARMFUL CHEMICALS
Cleaning the house isn't on the top of the chore list for most people, however, it must get done in the end. Since you'll be using a variety of chemicals, found in household cleaners, it is wise to invest in gloves that you can wear while cleaning.

SAVE MONEY, SPACE, and TIME!
These dishwashing gloves will totally transform your kitchen life, designed to wash dishes FASTER, the instant operation will save you time and will keep your ENERGY level always high.


BENEFITS
Easy to use & amazing cleaning power
Heat, dirt, and water-resistant
Made out of high-quality materials
Gentle on the skin: No allergic reactions!
Allergen-free materials
Multi-purpose: You can use it for cleaning different things!
Dishwasher safe
Reusable (No more need for sponges!)

One size fit! Package includes 2 gloves (left/right)

PRODUCT SPECIFICATIONS
Material : Food-grade
Size : 28.7cm x 15 cm
---